Other Rivers
---
There are basically four rivers that empty directly into the Ohio River in the Cincinnati area. The Licking River directly across from Cincinnati in Northern Kentucky can be found on the Northern Kentucky site mentioned on the Main Page. The other three are the Little and Great Miami Rivers and the Mill Creek. The Mill Creek has for the most part of the last century been considered one of the most polluted rivers in the country, running as it does thru most of the biggest polluting factories and businesses in the region. So don't be fooled by the hand colored images of the Mill Creek below.
The Little Miami drains into the Ohio east of Cincinnati and the Great (Big) Miami enters the Ohio west of Cincinnati. The Whitewater River flows into the Big Miami from Indiana. (only about 20 miles from downtown Cincinnati).
LITTLE MIAMI RIVER


Newtown Bridge
LITTLE MIAMI AT MILFORD


1858 View of Milford
The last two images above are present day photographs of the area.
LITTLE MIAMI AT LOVELAND





Boating near Loveland Bridge over Obanion Creek
The last card above is a Postal Card, it has a serrated edge on top which means it was a double card originally. The half removed was probably a post card that had to be mailed back to receive something.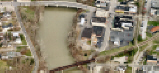 Present day photograph


West Loveland
The real photo postcard above shows the intersection of Loveland Ave. and Riverside Drive. The Little Miami river can be seen on the left.
FOSTER OHIO


Viaduct over Little Miami
Foster is located between Loveland and Kings Mills.


R.R. Bridge
The two postcards above do not specify the location but they were by the Batavia Post Card Co. so I am assuming they would not travel very far to take a generic image like this. The 2nd card is obviously a colorized version of the 1st card.
GREAT MIAMI RIVER
MIAMI / MIAMITOWN
Miami changed its name to Miamitown sometime in the 1920s.
Junction of Big Miami




And Whitewater River


*
Lost Bridge? at Cleves, Ohio
Can anyone help explain this one?