Automobiles 2
---



Coney Island poster in window Finish of Auto Race
Not a postcard





The Hickory Carriage Co. The Ohio Motor Car Co Ohio Motor Car Ads.
s.w.c. Spring Grove Ave. & Rawson



Auto Show, Feb. 1912 Decorator Geo H. Fern
at the Music Hall 1252 Elm Street
1910 MUSIC HALL AUTO SHOW



The Acorn Motor Car Co.
Fifth, Eggleston Ave. & Lock St.
The driver in this 1909 Harrison postcard was named Atherton. He was apparently a producer of postcards. The second card above is Stageway Coaches, a limousine service, that was located at 414 East Court Street, Cincinnati.

I believe the panel truck in the above postcard is made by the American Austin Co., or its predecessor the American Bantum which took over in 1935. I don't know the year of this image of the neat little vehicle belonging to the Stanley Hardware Co. at 4857 Glenway Avenue, but I am hoping someone "out there" can help me out.
There was a automobile show that was held February 21-26, 1910. This card was put out by the J. H. Ratliff Automobile Co. 30 Opera Place . It shows all the American winners of cups given out at that show.
Charles Naish sold used cars and furniture from this building located at the n. e. corner of Montgomery and Hudson in Norwood, Ohio. The second image shows this corner as it looks today.
MOORE OIL CO.

The Moore Oil Company was located on the s.w. cor. of York & McLean Ave.


Duwel Auto Service
4314 Glenway Avenue
Not a postcard



Moore Oil Gas Station
Ridgeway & Reading Rd.
The images above and below are of the automobile parts store of Coughlin & Davis, around 1913, that was on Seventh & Walnut Sts. in Cincinnati. The first 2 images is a doublecard which, if you wanted their catalog, had to be torn apart and the outside bottom portion was mailed back. The third image is a different image of the interior using a regular postcard. The last image above is of the exterior of the store. You can also see the Hanauer Auto Co. that was next door. The two card images below is, I believe, a 1946 card of the same company. The C & D Auto Supply, Inc name could be a coincidence but I don't think so. By 1946 the company had moved to 309 Findlay Street. The last card below is an advertising card.




Sunoco Gas Station Esso Gas Station Axle Frame & Wheel Co.
Hopple & Beekman Sts. 7129 Hamilton Ave 666 Glenwood Ave.


Walkers Service Station 2536 Reading Road


*
Paragon Gas Station Sohngen & Bischoff Tires
Moorrman & Clayton Aves. 1125-1131 Race St.
Walnut Hills *Thanks to Scott Kabakoff



The Fisher-Griffin Co. The Tri-State Ignition Inc. 8th and Broadway
1130 Taft Road

*
Auto Brake Service
320 Reading Road
*Thanks to Scott Kabakoff




Miami Vulcanizing & Rubber Co. Western Tire Co. of America (805? Race St.)
s.w.c. 8th and Broadway Later moved to 810 Race Street
A couple of pieces of trivia:
In 1860 there were 87 makers of carriages. In 1919 there were 8. The last was the Phoenix Carriage Co. at 901 Evans St. (1931)
In 1903 there were 108 Automobiles registered, by 1917 there were 22,000.
BUSES
Located at the southwest corner of 5th and Sycamore this Greyhound Bus Terminal opened in June of 1942. During the war years 175 buses arrived and departed every day. There are many cards of this depot and almost all of them are a variety of the first card. The third card is very rare, this is the only one I have ever seen. The reason for this is pretty obvious, there is a major flaw in the image the width of the card. These cards were probably never intended to be placed on the market. This one slipped thru somehow, this is my guess anyway. Anybody else have one of these?
There was also a Trailways Depot in Cincinnati, I know because that is how I arrived in the city in the early 60's. I have never seen a postcard of this depot.
Cincinnati Sightseeing Cars (Buses)


Brochure
As can be seen on the front of the Auto Sight-Seeing Car itinerary above, these "buses" were sponsored by the organization of Cincinnati Advertisers. Starting at 5th & Vine it would show off several of the main hotels and businesses in Cincinnati before heading out to the suburbs via Eden Park.


Compton Hills Mobile Park
Compton & Pippin Roads


Rare advertising postcard for David Peacock Taxi-Cabs. 1868 Hewitt Ave.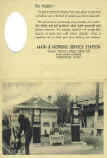 This plain looking card opens to This showing a Norwood
Gas Station


A. C. Motors 5756 Hamilton Ave.

*


Frank-Lou's Shell Service- Norwood
5225 Montgomery & Fenwick Ave.
*Thanks to Scott Kabakoff
AUTO BRAKE SERVICE CO.
DEPENDABLE MOTORS

I am not familiar with this Automobile Country Club that was located on Colerain Avenue.